Recently (slabikar.fiume.cz) .. Continuously - live re-edits (carpetscurtains.fiume.cz)



Schooldays (samples)
| Školní cvičení (výběr) | Minulo/FaVU

Brno Faculty of Fine Arts
|
filip@
(-)
fiume.cz
| Bio EN CZ | Interview | Videoart? | Exhibitions


New works: http://intermedia.ffa.vutbr.cz/view/4.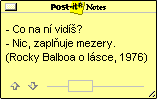 Playful - Overhead projector workshop (Summer Open Academy 2007, Bratislava, //->)
by Filip Cenek & Magdalena Hrubá:

B. n., zpětně
| Without title, overhead

2007, 4 min., meotar live / OHP performance record

~18Mb


Věra Lukášová:

B. n., znělka
| Untitled, jingle

2007, 66 sec.
, DV

~20Mb


Jiří Havlíček & Filip Cenek:

Lotus3 a Solaris
| Lotus3 and Solaris

2001-2003, DVD-Video disc

~lotus3.fiume.cz

Keiko Sei, 2002: Lotus3. //->

Filip Cenek:

(animation within photo by Michal Kindernay, Pilsen2Pilsen project)

B. n., 8 AM
| Without title, 8 AM

2007, 1:30 min., DV

~30Mb


Filip Cenek, Jiří Havlíček & co.:

Nora
| Nora

2005, 7:20 min., (txt), DV

~95Mb

Filip Cenek for Magdalena Hrubá:

Devět vteřin ticha
| Nine s. of silence

2001, 18 sec., DV

~7Mb

Jiří Ptáček, 2004: My favourite 'Nine s. of silence' is a true animated micro-story: it is "only" the ordinary fall of a parachutist through the air, but treated in such a way that we would know that the static little figure is whizzing through space towards the earth. Suddenly, however, the colours turn over and we are following the same scene inversely. For several seconds on the surface the drama of the story itself unfolds together with our perception of it. ...
Mých oblíbených 'Devět vteřin ticha' je opravdová animační mikrostory: je to "pouze" všední let parašutisty ovzduším, pojednaný tak, abychom o statické postavičce věděli, že sviští prostorem k zemi. Náhle se však barvy obrátí a my sledujeme tutéž scénu inverzně. Na ploše několika sekund se rozprostře drama samotného příběhu i našeho vnímání. ...


Jiří Havlíček & Filip Cenek:

B. n., self-reflecting image
| Untitled, self-reflecting image

2006, 16 sec., DV

~1Mb


Tereza Janečková:

Nora
| Nora

2007, 20 sec., loop, DV

~8Mb

Filip Cenek+ (//->):

Bez názvu (Stalker)
| Loop without title (Stalker)

1999/2001, 2 min., loop, 16mm

~44Mb

Performance by Filip Nerad (music) & Jiří Havlíček (masks)
w. videoprojection by Filip Cenek (vjing within photo by F.N.):

Zorilor
| Zorilor

2002, 9 min., DV

~103Mb

Filip Cenek:

Po Atentátu (3 fragmenty)
| After the Assassination (3 fragments)

1998, 6:10 min., DV

~125Mb

F.C., 1998: Notes on the Fragments After the Assassination. //->
Markéta Uhlířová, 2000: Restriction – Power of Vision. //->
Miloš Vojtěchovský, 2001: Cenek's analysis stems from his personal experimentation with the transformation or destruction of film sequences. In 'After the Assassination' a two minute long extraction from the film 'The Assassination' (Czechoslovakia, 1964) is put through an analytical research which attempts to challenge how our reading and understanding is modified according to which component is given emphasis in a succession of images. This method of research opens up many questions not only concerning authenticity and edit but also the trust and authority that we read into a tale told which simulates and represents reality.
F.C. vychází při své analýze z vlastních pokusů s transformací nebo dekonstrukcí filmových sekvencí. Několik minut citace z filmu 'Atentát' podrobil analytickému výzkumu věnovanému tomu, jak je naše čtení a chápání modifikováno podle toho, na který prvek je kladen ve sledu obrazů důraz. Tato metoda výzkumu otevírá mnohé otázky nejen autenticity, střihu, ale i důvěry a moci, kterou vkládáme do vyprávění příběhů, simulujících a reprezentujících skutečnost.
Tomáš Pospiszyl, 2002: Minulost v přímém přenosu. Nová média a národní i osobní historie. //->

Tomáš Pospiszyl, 2002: (-//-. english translation). //->

Filip Cenek w. Magdalena Hrubá:

Neděle (cestopis osobního h.)
| Sunday (travelogue of personal h.)

2000, 6:45 min., Hi8

~122Mb

Marek Pokorný, 2004: Cenek's intimacy, along with his gentle humor offers something that is not so substantive. That which is important must, in the end, play itself out or have been played out in a completely different place. It is as if we were forced to observe a seam being sewn, its progress, its artificiality or lack thereof, without being present to find out whether it concerns a patch, a perfect joint between two pieces of cloth or merely a patchwork of rags. Are we at all interested? Cenkova intimita s velmi jemným humorem nabízí něco, co není až tak podstatné. To důležité se nakonec nutně odehrává či odehrálo někde úplně jinde. Jako bychom byli uchváceni pozorováním švu, jeho průběhem, umělostí či neumělostí, aniž bychom byli s to zjistit, zda jde o záplatu, perfektní spoj mezi dvěma díly oděvu či pouze o sešité hadříky. Zajímá nás to vůbec?


Filip Cenek:

Hrana
| Without title (Epstein)

1998, 1:30 min., U-Matic SP

~26Mb

Filip Cenek w. Magdalena Hrubá & Jiří Havlíček:

2.1D
| Part of the installation Without title (2.1D)

2000
, 2:30 min., loop, (txt), D8

~39Mb

Filip Cenek & Magdalena Hrubá (featuring voice by M.D.):

Art first has to be defined (Boudník)
1999, 7:30 min., 8mm

~121Mb

Jiří Ptáček, 2004: ... Small, subsequently accompanied drawings start to enter onto an 8mm black-and-white recording. Along with the word 'Boudník' - which for a moment appears before our eyes - the filmed material becomes a very concrete means which allows pictures to be found there, where we are not used to finding them, or where we have given up looking. And by these several "interpolations" the whole film can be understood as an aesthetic transcription of reality. ...
Právě posouvání vjemové hladiny mě zaujalo rovněž u 'Art first has to be defined'. V 8mm černobílém záznamu dívky ve městě se začnou objevovat drobné, dodatečně provedené kresby. Spolu se slovem 'Boudník', které se před námi na okamžik objeví, se tak filmový materiál stává velmi konkrétní prostředkem, jímž lze nacházet obrazy tam, kde na ně nejsme zvyklí nebo kde jsme na hledání rezignovali. A těmito několika "vsuvkami" se i celý film dává poznat jako estetický přepis reality. ...